Thailand Holds Key Rate as Economic Recovery Gains Momentum
November 5, 2016
Haris & Associates
Thailand's central bank kept its benchmark interest rate unchanged for an 11th consecutive meeting, the longest streak on record, as an economic recovery continues to gain momentum.
The Bank of Thailand held its one-day bond repurchase rate at 1.5 percent, with monetary policy committee members voting unanimously in favor, it said in Bangkok on Wednesday. All but one of the 23 economists surveyed by Bloomberg News predicted the decision, with Moody's Analytics Inc. forecasting a 25 basis-point cut.
Consumer confidence rose to a five-month high in August, buoyed by public approval of the nation's new constitution and better-than-expected economic growth in the second quarter. Finance Minister Apisak Tantivorawong said last month the economy grew "very close" to its potential in the second quarter, supported by government stimulus measures and tourism.
"After a couple of years in the doldrums, Thailand's economy is showing signs of recovery," Krystal Tan, an economist at Capital Economists Asia Pte. in Singapore, said in a note to clients. "However, we doubt the recent improvement in the economy will last" and the bank may lower the policy rate by 25 basis points, possibly as soon as this year, she said.
Growth Forecast
The central bank revised its economic growth forecast for this year slightly higher to 3.2 percent from 3.1 percent due to a temporary pick-up in private consumption in the second quarter, Assistant Governor Jaturong Jantarangs told reporters. Next year's prediction was left unchanged at 3.2 percent.
"We maintain the GDP growth forecast next year as higher public investment will help offset exports and private investment, which may remain weak on trading partners' economic prospects," Jaturong said. "We see greater risk from the global economy next year as we take into account Brexit. We didn't include it in our earlier forecast."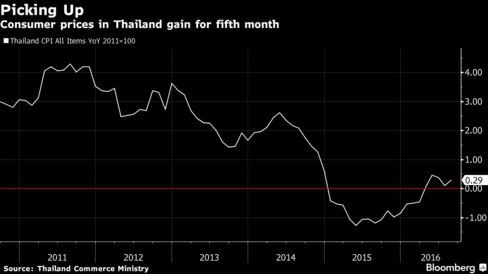 Consumer prices rose 0.29 percent in August from a year ago, gaining for the fifth straight month after more than a year of deflation. The bank lowered its inflation forecast for this year to an average of 0.3 percent, down from 0.6 percent previously and said it will probably return to the 1 percent to 4 percent target range by the fourth quarter.
The baht has gained 3.3 percent against the dollar this year, a further drag on exports. The currency gained 0.1 percent to 34.929 against the dollar as of 3 p.m. in Bangkok on Wednesday.
"The central bank has taken care of the baht using existing tools," Jaturong said. "We will look into players in the market closely. We will also create more balance between inflows and outflows and lower obstacles on outflows." Volatility in the foreign exchange market is "high and will continue to be high going forward," he said.
Bloomberg markets by